Microneedling Treatment
to Rejuvenate Your Skin
Is an automated, Health Canada and FDA approved microneedling device designed to create thousands of micro channels in the skin. This action, in combination the Skinfuse treatment kit, stimulate Collagen Induction Therapy which lasts up to one year after treatment. The SkinPen safely, comfortably and effectively treats Melasma, hyperpigmentation, wrinkles, skin laxity, acne and surgical scars.
Microneedling is an effective treatment in the fight against aging skin, as it replaces damaged skin with tight, strong skin. We perform microneedling using the state-of-the-art, first FDA and Health Canada-cleared, SkinPen®, which allows precise, effective, and safe treatment.
Sterile fine needles gently puncture the skin, creating hundreds of small, controlled wounds that trigger a boost in collagen production.
Popularity
Number 3 most popular treatment
After the age of 25 our skin produces up to 2% less collagen per year a problem that contributes to wrinkles because collagen is essential for strength and resilience. Microneedling rejuvenates your skin by restoring collagen, reduces hyperpigmentation, and reduces winkle and scar appearance
Microneedling safely and effectively improves skin problems such as:
Many clients request microneedling to improve the appearance of their face, neck, arms, and hands. However, your technician at DermNurse Medical Aesthetics can rejuvenate skin anywhere on your body!
After evaluating your skin and talking with you about the results you want to achieve, your technician begins your SkinPen procedure by cleansing your skin and applying a topical anesthetic. While there can be certain areas of the face and body that generate more discomfort than others (such as the forehead), micro-needling is generally well-tolerated.
WHAT SHOULD I EXPECT?
Most clients experience some redness and tenderness after microneedling. Healing proceeds at a different pace for each person but most find their side effects disappear within a few days to one week. You receive detailed instructions for skincare after your procedure to help reduce swelling and support healing.
It takes time for new collagen and elastin to replace old skin at the surface, so your overall results appear gradually. It is highly recommended you get three treatments spaced one month apart for the best results.
The treatment takes about an hour.
Best results are realized after three treatments spaced 1 month apart.
No. Make-up should be avoided until at least 24 hours after the treatment.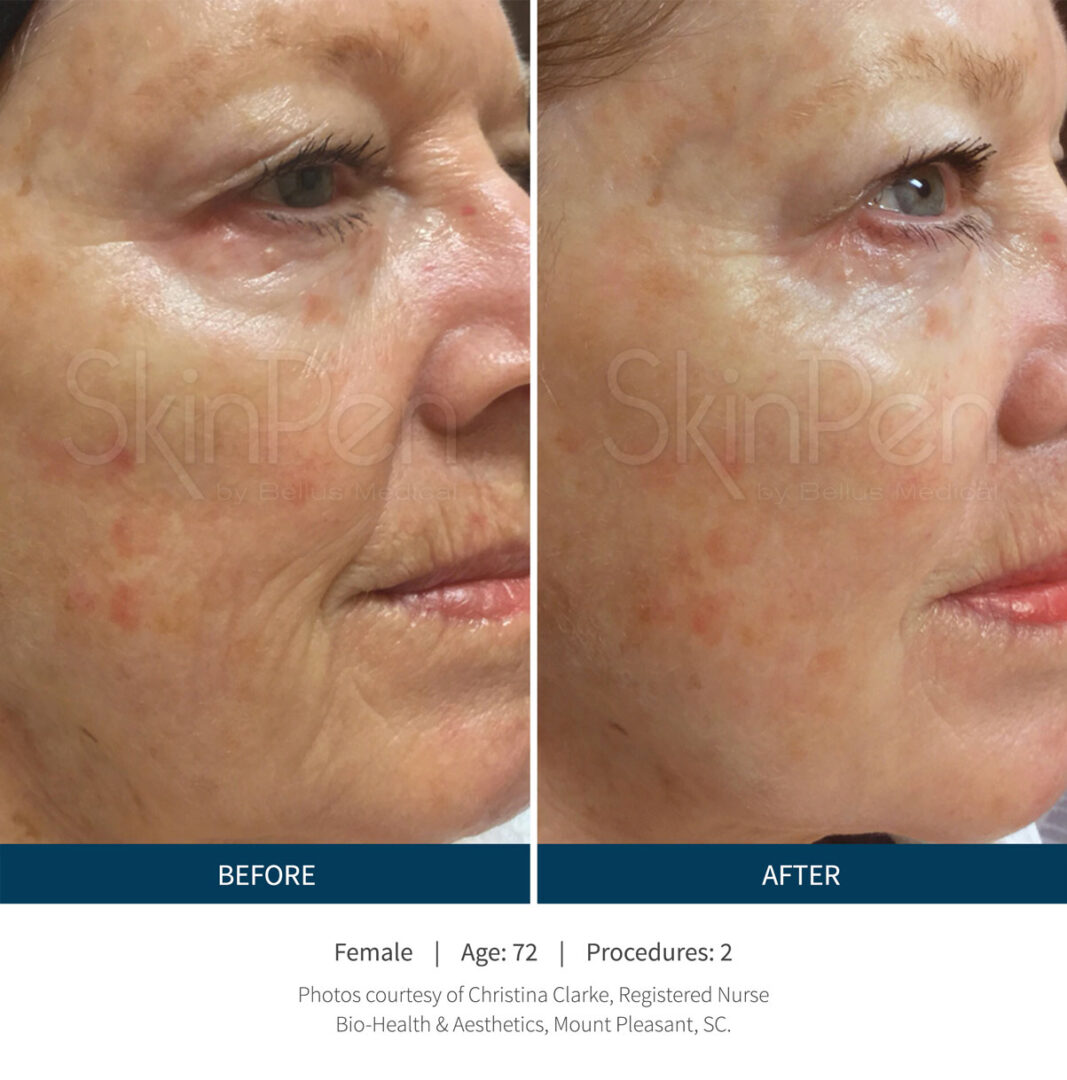 Pre-Treatment Instructions:
Please discontinue products containing any exfoliating agents (retinoic acid, tretinoin, retinol, benzoyl peroxide, glycolic/salicylic acids, astringents, etc.) at least 24 hours before treatment.
If you have a history of herpes or cold sores, we highly recommend a course of anti-viral medication pre and post treatment. This will prevent an outbreak of cold sores if you are prone to them. Cold sores can also break out on people who are not prone to them, but who have sensitive skin. If you would like us to call in a prescription for you, please call our offices.
Contraindications: Accutane within 6 months of treatment, active skin infections, acne breakouts, or open lesions in the treatment area.
Discontinue autoimmune therapies at least 24 hours prior to Skinpen.
Post-Treatment Instructions:
Immediately Following Treatment:
Do not apply anything to the skin for 6-8 hours after treatment. This includes make-up, SPF or products of any kind.
Avoiding touching the treated area.
Avoid direct sunlight exposure, sweat inducing exercise, pools, hot tubs and saunas for the first 72 hours.
Avoid clothing, headbands, hats or scarves on the treated area. If clothing is to be worn over the treatment area, we recommend cotton that hasn't been treated with fabric softeners or dryer sheets.
Redness and/or swelling is common and will resolve within 1-2 days. You may look and feel like you have a sunburn.
Fitzpatrick IV-VI pigment may darken prior to lightening.
Wait 6 months before starting Accutane or oral isotretinoin.
You will be provided an aftercare kit with instructions on proper use.
Schedule your next appointment at 4 weeks.
What to expect
Bruising, pinpoint bleeding, minor scabbing, minor breakouts, swelling and/or redness may occur and will resolve within 7-10 days of treatment.
Do not pick, peel, rub, scrub or irritate your skin in any way while it is healing, as this may cause scarring.
Avoid heat, saunas, hot tubs and sweaty activity; this includes exercise of any kind.
Do not use an electric or manual facial brush of any kind (i.e. Clarisonic).
Loose powder mineral make-up may be worn, however, we recommend leaving skin clean for this time period if possible.
Your skin may feel tight the first 72 hours after treatment.
Your skin may feel mildly itchy. This is because the top layer of the skin is getting ready to release itself and shed.
PM: Cleanse skin then apply Skinfuse LIFT in your aftercare kit (White bottle).
AM: Routine - Cleanse skin with gentle cleanser and apply Skinfuse LIFT. Then follow with TIZO non-chemical SPF.
PM: Cleanse skin with gentle cleanser then apply Skinfuse LIFT (white bottle).
AM: Cleanse with gentle cleanser then apply Skinfuse RESCUE (blue bottle). Apply TIZO non chemical SPF.
PM: Cleanse with gentle cleanser then apply Skinfuse RESCUE in blue bottle.
Repeat for 72 hours.
Using caution, you may resume your regular skin care routine as long as peeling/flaking has subsided. If you are still peeling/flaking, be patient and allow your skin the time it needs to heal before starting back on your routine.
Please contact the clinic if you experience redness, swelling, pain, after 72 hours or develop a rash.