Schedule a Virtual Consultation With
Our Medical Aesthetic Experts
Deciding to have an aesthetic procedure is an important and significant decision. You will want to be well-informed about your options and the professionals who will be working with you through each step.
From the consultation until your treatment day and follow-up thereafter. Our team is committed to helping you with your decision-making process, starting with your first contact with our clinic. Although virtual, these consultations are tailored to meet most aesthetic needs. For example, Botox and dermal filler.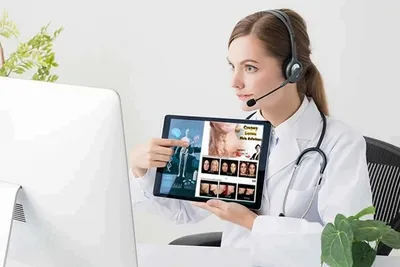 Determine beauty goals, areas of concern and options.
Evaluation of volume loss, wrinkles, etc.
Determine whether a client is a candidate for specific treatments such as Botox, dermal filler, Fractora, Venus Viva, Fat Reduction Skin Tightening, PRP for skin rejuvenation and hair loss, and IPL for hyperpigmentation.
Education regarding the various aesthetics treatments we offer.
Discussion of contraindications, effects, and results.
Education on ideal skin care services and products, for your particular skin type, condition and goals.
Education regarding DermNurse's unique techniques for obtaining the most natural results.
Details on expectations of your non-invasive aesthetic procedure.
Answer all questions related to non-surgical enhancements, including cost.
This service is being offered as an alternative to in person consultations in response to Covid -19 and the social distancing requirements mandated by the Provincial Government as of March 23, 2020. Virtual consultations are time saving and convenient allowing clients to meet the treatment provider in the comfort and privacy of their own home or preferred location. They also reduce the amount of time required for clients to be in clinic.
Our Nurse Practitioners are able to assess, diagnose disease or cosmetic issues, refer if needed, and prescribe medications for skin issues.
For your convenience, our Nurse Practitioners use a Virtual Consultation platform developed by our current EMR system called Jane, which is reliable and HIPAA compliant. This 2020 technology is user friendly and easy for you to use on your laptop, desktop and/or mobile phone. Support to assist you with setting up your Virtual TelMed is available.
Dermatology and cosmetic related consultations are $50. However, for cosmetic clients this fee can be applied towards treatment.
Generally each appointment is 15-25 minutes but could be a bit longer if there are technology related issues.