A chemical peel is a treatment used to improve skin texture and tone. An acid is applied to the skin to lower the PH, which loosens the connections between dead skin cells, including exfoliation and stimulating new cell growth. This process causes superficial layers of dead skin to peel off, revealing a smoother and more radiant complexion.
Why ALUMIER MD chemical peels?
AlumierMD (Canadian company) Peel Treatments are the next generation of clinical exfoliation. AlumierMD understands that everyone wants clear, beautiful, skin. Using scientifically-based, high performing clean ingredients, AlumierMD has designed a cosmetically elegant, clean, chemical free range of skin care products to suit all skin types with exceptional results.
*All AlumierMD products are free of parabens, sulfates and dyes.
Popularity
Number 2 most popular treatment
BENEFITS OF A CHEMICAL PEEL
Helps reduce sun damage
Helps with fine lines and wrinkles
Helps reduce pore size
Helps reduce Melasma and hyperpigmentation (age spots)
Helps smoothen rough texture
Helps reduce uneven skin tone
Helps with Acne, related congestion and scars
Refines enlarged pores
Creates softer, smoother, glowing skin
Helps exfoliate damaged cells
Promotes new collagen formation
Reduces inflammation (good for rosacea)
Hydrates the skin
*In some cases where the skin condition is more severe, we may recommend Fractora, Photo Facial using IPL, Venus Viva or Microneedling to achieve your skin goals.
*Have links to the pages connected with each treatment in bold.
ALUMIER MD CHEMICAL PEEL:
BHA PEEL (Beta Hydroxy Acid)
Best for: Acne, skin congestion and discolouration 20% salicylic acid This is an oil soluble peel that penetrates into the pore removing debris, and excess sebum while simultaneously exfoliating, hydrating and reducing inflammation.
Best for: Rosacea, Sensitive skin, Hyperpigmentation & Aging
Lactic acid 30%
A multifunctional alpha hydroxy acid resurfacing peel that works to decrease the visible signs of aging and hyperpigmentation. Exfoliates dead skin cells and boosts skin turnover improving skin texture and tone.
Best for: Dry, Normal, Oily, Dehydrated, Acne, Hyperpigmentation & Aging. 7% salicylic acid, 7% lactic acid, 7% resorcino Improves the signs of aging and hyperpigmentation with less downtime. Provides exfoliation and overall rejuvenation. Best for fine lines and hyperpigmentation.
POWER GLOW PEEL (our most powerful peel)
Rosacea, Sensitive skin, Hyperpigmentation & Aging
Lactic acid 30%-Alpha hydroxy acid resurfacing peel which contains 30% lactic acid to decrease the visible signs of aging and hyperpigmentation. Exfoliates dead skin cells and boosts skin turnover improving skin texture and tone.
HOW TO PREPARE FOR YOUR PEEL
We recommend you stop using any products that contain active ingredients such as retinoids/Retin A, Vitamin C, or any alpha hydroxy acids (AHAs like glycolic acid & lactic acid) or Beta hydroxy acid (BHAs like salicylic acid) at least 7 days prior to treatment. Do not have skin treatments of any kind for at least 7 days prior to treatment.
Your face will be cleansed and dried. You may feel a warm and tingling sensation that peaks and then dissipates within a couple minutes of peel application. The peel is precisely timed and generally the treatment is well tolerated. Once the peel is neutralized, a soothing medicated moisturizer is applied to calm and rebalance the skin. Lastly, a non-chemical SPF is applied to protect your skin from UV damage.
Initially the skin feels slightly tender and more sensitive as the epidermis renews itself. Peeling does not always occur, however, if it does peeling it usually only lasts 3-5 days after treatment. After this you will see baby fresh new skin emerging and so you will want to protect it with high-quality products at home. Your Clinical Aesthetician will guide you in choosing skincare products to use after the post-peel kit is used.
DermNurse provides a free post peel kit containing cleanser, moisturizing/recovery cream and non-chemical SPF to use immediately following the peel for up to 4 days. Light day makeup can be worn if necessary.

A.M. Routine
STEP 1: SensiCalm cleanser or ZO gentle cleanser is acceptable
STEP 2: Intensive Recovery or Recovery Balm
STEP 3: Non-Chemical SPF (Sheer Hydration SPF 40 or TIZO SPF 40)
P.M. Routine
STEP 1:SensiCalm cleanser or ZO gentle cleanser is acceptable
STEP 2: Intensive Recovery or Recovery Balm
What to Avoid after a chemical peel:
DO NOT cleanse your skin he evening of the peel
DO NOT pick, rub, or pull the skin
DO NOT use facial scrubs or other mechanical forms of exfoliation for 14 days
DO NOT tan or use tanning beds for 14 days after
Avoid strenuous exercise, use steam rooms, saunas, hot tubs or swimming for 2 days
DO NOT have hair removal (electrolysis, waxing, threading, laser, IPL) for 14 days
Do NOT use any AHAs, BHAs, Retinols, hydroquinone for 14 days.
DO NOT apply ice or water to the treated area
PLEASE moisturize the skin morning and night
PLEASE use sunscreen daily!
If you are looking for peeling this is the peel for you! The Perfect Derma Peel is a safe, effective medium depth peel for ALL Skin Types & Ethnicities. The product is virtually painless, with no pre-peel skin preparation and little downtime.
The Perfect Derma™ Peel is the only peel that includes the powerful anti-oxidant Glutathione, which lightens and brightens the skin, slows down the aging process and helps prevent wrinkles.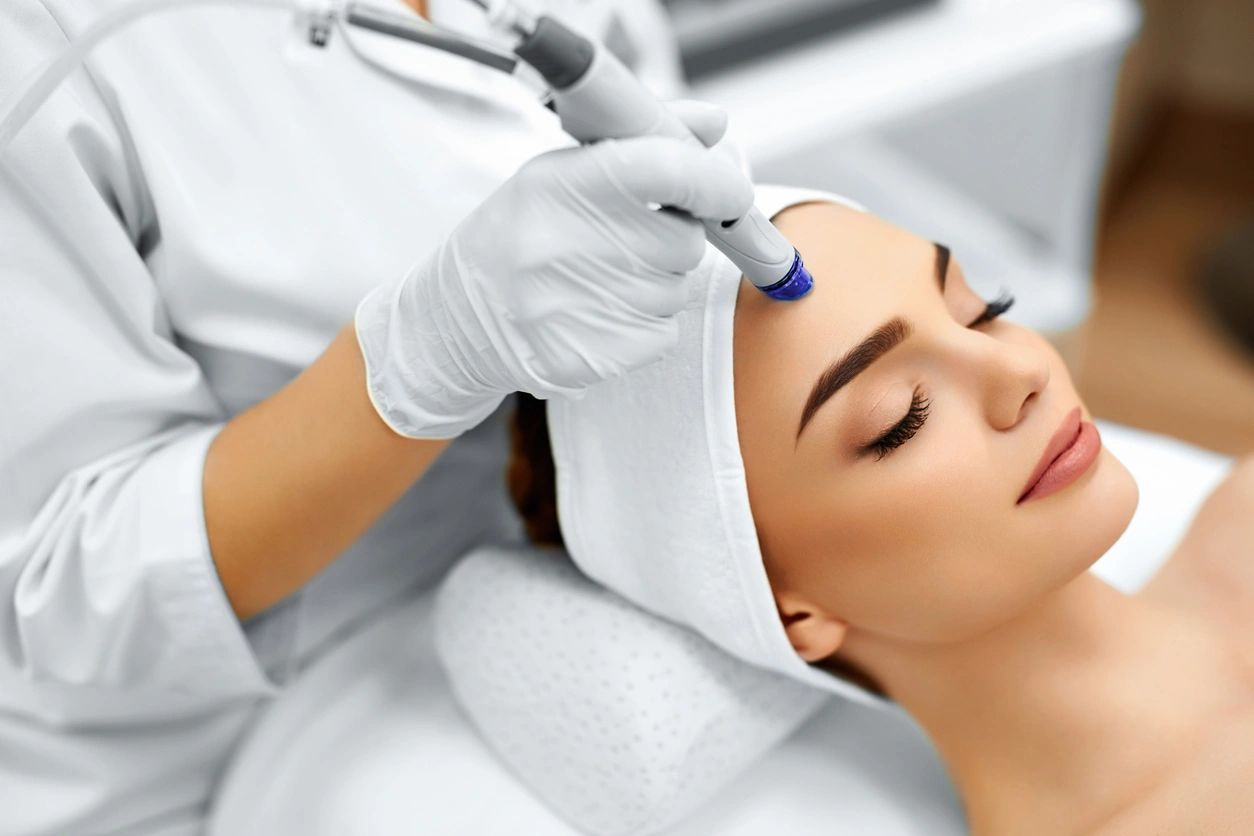 While glutathione is the main ingredient, the peel also has a blend of other acids, powerful antioxidants, and peptides such as:
Trichloroacetic acid (TCA) (deeply chemically exfoliates the skin)
Salicylic acid (for reducing redness and inflammation)
Retinoic acid (for anti-aging and brightening effect)
Kojic acid (for brightening effect)
Phenol (for numbing effect)
Vitamin C (for antioxidant and brightening effect)
The skin is cleansed and then prepped/defatted with acetone. A medical or clinical aesthetician will administer the peel — which only takes about 15 minutes.
This peel is self neutralizing so you will be instructed to leave it on for 6 hours.
You will be given a home care kit that comes with The Perfect Derma Moisturizer with 1 percent hydrocortisone and Post-Peel Towelettes to help calm any tightness, redness, or itching that may happen as your skin prepares to peel.
A few days will go by as if nothing happened. But by the third day, the magic begins. Thin sheets of the epidermis skin will start to peel usually starting around the mouth and extending to other parts of the treated areas. This process lasts for three to four days. The entire process is completed day 7-10.
During the peeling process, you can't slough, pick, or peel the shedding skin, as it may lead to scarring. You just have to be OK with peeling!
The Perfect Derma Peel claims to be the only medical-grade medium depth chemical peel that features glutathione. Glutathione is a very potent peptide and anti-inflammatory and is commonly used as a brightener.
Created by Beverly Hills-based beauty company Bella Medical Products, this medium-degree peel is only available for purchase by medical professionals, such as physicians, nurse practitioners, physician assistants, medical aestheticians, and medical spas.
Each treatment of the Perfect Derma Peel costs between $300 to $500, depending on your location.
The benefits of the peel
Benefits:
Improve the overall clarity, tone and texture of the skin
Reduce or eliminate hyperpigmentation, sun damage and Melasma
Improve acneic skin conditions and reduce acne scars
Stimulate the production of collagen, resulting in firmer, more youthful skin
Reduce the appearance of pore size
Immediately after all the peeling is complete.
For maximum benefits and maintenance, we recommend a series of two to four peels, four weeks apart. Afterward, treatments only need to be performed once every three to six months to maintain results.
The Perfect Derma Peel is colour blind
This means it's safe for all skin colours!
Client testimonial:
I wanted to address my hyper-pigmentation which was caused by too much time spent on the beach. The procedure was quick and virtually painless. Just like the instructions read, I started to peel 2 days after I had the peel put on. After 3 days of peeling almost all of the hyper-pigmentation has disappeared and my skin is much smoother and more even toned. The results are better than I expected! I have tried several chemical peels in the past, but the Perfect Derma Peel by far, has given me the best results!
-CB