Cosmetic Injectables Designed
to Fight the Signs of Aging
We offer Health Canada-approved dermal filler products, including Restylane, and Teosyal.
Dermal filler is composed of simple sugar cross-linked into a gel, which eventually becomes reabsorbed by the body and used as energy.
These products are generally used to replace volume where volume has been lost but can also be used to smooth out lines and wrinkles.
DermNurse Medical Aesthetics is conservative in its approach to dermal filler injections. It is better to under-correct the volume loss than overcorrect. Having too much filler results in looking "overdone," which is worse than being treated at all.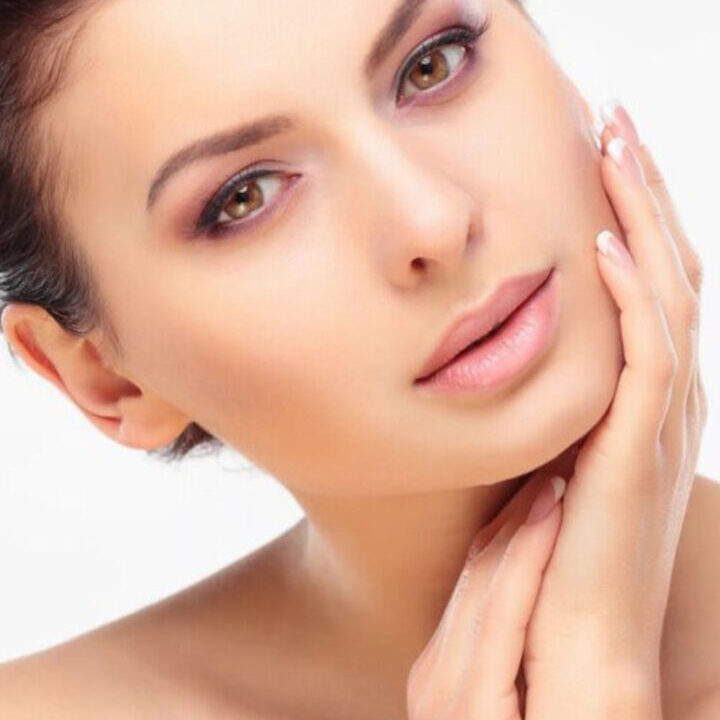 Popularity
Number 1 most popular treatment
Botox and Dysport are cosmetic injectable medications used to temporarily relax facial muscles causing repetitive skin folding with expression leading to wrinkles that eventually become deeper and more extensive. Results are experienced up to 2 weeks after treatment. Dermal Fillers (Restylane and Teosyal) are derived of hyaluronic acid, normally found in your skin, and are used to replace or add volume where volume has been lost or to fill wrinkles. Results are immediate.
Skinboosters are hyaluronic acid which plump the skin and increase the skin's elasticity by up to 96%. They are not like traditional fillers which replace volume.
Lips- to add volume, create symmetry, create shape, and soften lip lines.
Cheeks-to add volume, create symmetry, to create lift to jowls and help offset tear troughs.
Temples-to add volume
Nose-to create symmetry or create contour
Tear troughs-to add volume to sunken in tear troughs and reflect light to brighten the area.
Laugh lines (aka Nasal Labial folds)- to add volume.
Chin-to add volume, smoothness, and balance facial proportions and or the profile.
Jawline-to accentuate the jawline creating definition
Wrinkles- to soften lines. Dysport and Botox will often need to be used to prevent the wrinkle from reforming. ZO Retin-A topical can also help with wrinkles. Fractora is an option to rejuvenate and build collagen and elastin in the skin to help prevent future wrinkles. Of course applying SPF sunscreen daily and avoiding direct sunlight is a key practice to preventing wrinkles.
Hands- to replace volume and make the hands look smoother and more youthful.
Hyaluronic acid has been found to stimulate the production of collagen and elastin which contribute to the skin's elasticity and fullness.This may slow both age and sun-related degradation of existing collagen.
Safety is our top priority
The dermal fillers injected at DermNurse are extensively clinically tested and studied for safety and efficacy, are Health Canada approved, and have excellent safety and performance track records. Our injection techniques and approaches adhere to the latest safety protocols, are respectful of anatomy, and utilize cannulas in high risk zones. A Nurse Practitioner, who can diagnose disease and prescribe medication like a Doctor, will consult with you prior to your treatment. Having a Doctor or Nurse Practitioner consult with you before any cosmetic injectable is a legal requirement put in place for your safety and to ensure informed consent has been obtained.
Conservative approach to aesthetics
At DermNurse we have a "less is more" approach to dermal fillers. The goal is to enhance your natural beauty. We can always add more later if needed. This approach leads to better cosmetic outcomes.
Continuous education
At DermNurse we are involved in continuous research and education about the latest clinically proven, effective, and safe aesthetic treatments available. Because new aesthetic technology or treatments require the test of time to prove themselves, we do not chase beauty trends. Rather, we are committed to delivering to you time-tested and proven treatments, products, and technology. We use the latest advanced treatment techniques and are gentle and methodical in our injection approach.
Competitive prices
At DermNurse we offer reasonable prices generally based on how much dermal filler is used. We are upfront with what the cost will be. There are no hidden costs or surprises. Consultations are free.
Hours
DermNurse is available daily Monday to Friday 10 AM- 6 PM and Saturdays by appointment only. We do not do cosmetic injections in the evening as this can increase poor cosmetic outcomes.
Location
DermNurse is conveniently and centrally located near Chinook Mall and is wheel chair accessible. Parking is free in front of the building and in parking stalls with a sign stating Customer Parking.
Injecting dermal filler is an art. At DermNurse we practice a "less is more" approach to dermal filler. Reaching your beauty goals is not a race. We can always add more filler in the future but it is harder and more costly to remove unwanted filler. Poorly placed or too much filler leads to an unnatural appearance. Dermal filler has its limitations. It cannot create lift like plastic surgery can. The true foundation of beauty is healthy skin therefore a combination of different treatment approaches may be recommended.
Yes. Dermal filler composed of Hyaluronic Acid can be dissolved with an enzyme called hyaluronidase. It works over the course of 18 hours after it is injected. You may require more than one treatment to achieve optimal results.
Wrinkles can be very difficult to get rid of especially if they are deep, located in an area where there is constant expression or skin folding, or have been present for a long time. After all other wrinkle reducing options are considered such as topical Retin-A, Botox/Dysport, Fractora, Venus Viva, Microneedling, and Chemical peels, dermal filler is the solution of choice. Injected directly into the wrinkle, dermal filler instantly creates a softer and smoother appearance. More than one treatment may be required for best results. Results last up to one year.
Dermal fillers are purchased by the syringe (1cc-1.2cc) and the price per syringe varies from brand to brand. The price depends on the desired outcome and the area to be treated. At DermNurse we can often achieve great results with less product.
Fractora and dermal fillers are completely different. Fractora rejuvenates the skins surface, creates tightening and lift, and stimulates the skin to create larger amounts of collagen in response. In comparison, although dermal fillers can create lift and the appearance of tightening, they only help to slow down the loss of collagen and do not impact overall skin texture or tone. Three Fractora treatments may actually reduce the amount of dermal filler required. However, both treatments work very well together to enhance natural beauty.
Hyaluronic acid is safe for all skin types. Common injection-related reactions include bruising, swelling, redness, pain (not at rest), itching, or tenderness to the injected site, These reactions generally resolve within a few days.
Dermal fillers used at DermNurse are Health Canada approved, and made from plant-derived Hyaluronic Acid (Restylane™, Teosyal™). DermNurse does not use synthetic fillers or permanent fillers. Dermal fillers classified as semi-permanent or permanent can be made from Collagen such as Zyplast™ or Zyderm™ or from calcium hydroxyapapite such as Radiesse™. Other more permanent fillers may be composed of acrylics, plastics, or silicone. At your visit, please let us know if you have been previously injected with permanent fillers such as Artecol™, Artesense™,Beauticall™, Bioaclamide™, Dermalive™, or Dermadeep™.