We Offer Alumier
MD Skin Care Products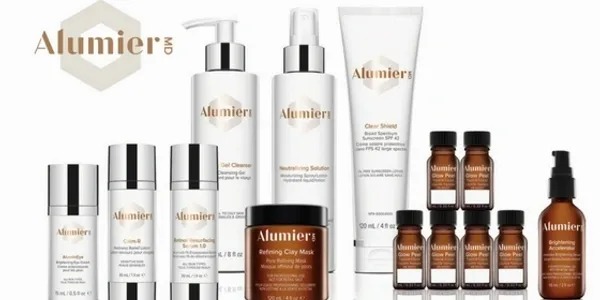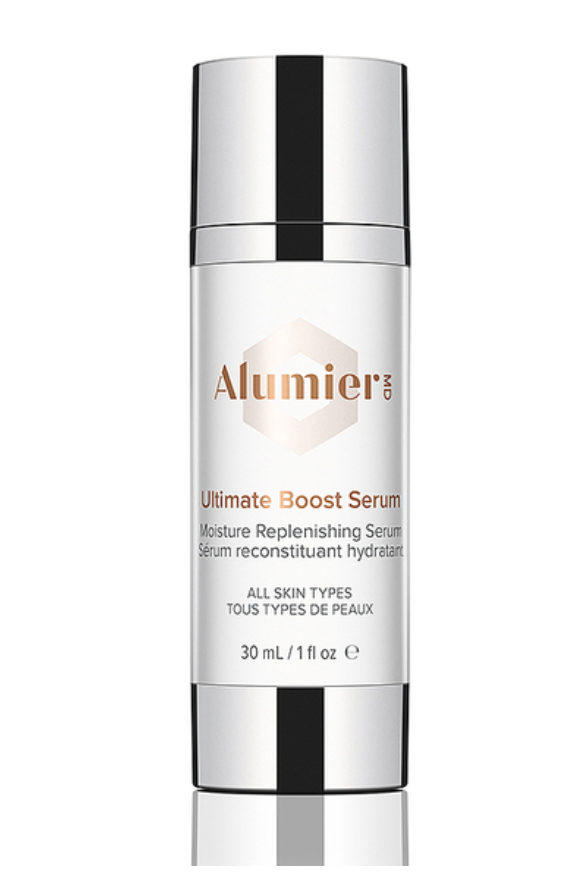 Ultimate Boost Serum is a lightweight serum that boosts hydration and enhances the skin's natural hydrolipid barrier with sodium hyaluronate and niacinamide.
MATRIXYL™ Synthe'6™ strengthens skin and improves elasticity, reducing the appearance of fine lines and wrinkles. Powerful antioxidants, including glutathione and a blend of tea extracts, neutralize aging free radicals to protect the skin from future damage.
Perfect to use as a booster under moisturizer.
30mL /1 fl oz e
AHA Renewal Serum is a clarifying formula with a mixture of exfoliators and hydrators to reduce the visible signs of aging and promote brighter, firmer and more radiant skin.
Lactic acid (8%) and gluconolactone remove dead skin layers, speed cell turnover, reduce the appearance of hyperpigmentation and smooth fine lines and wrinkles. Allantoin, sodium hyaluronate and vitamin B5 hydrate, while green tea and arnica soothe the skin.
30mL /1 fl oz e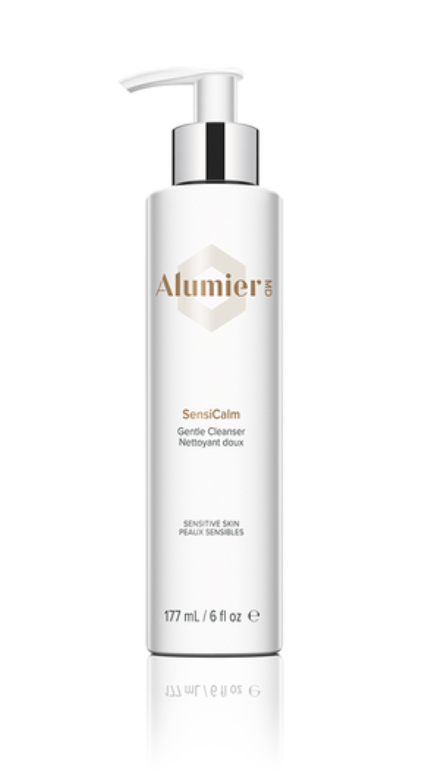 SensiCalm is a smooth, hydrating cleanser that delicately removes impurities and excess oil while calming skin. Safe for lash extensions.
Yucca root extract is a gentle natural cleanser. Niacinamide, ceramides, vitamin E and sunflower seed oil moisturize, leaving skin smooth, soft and intensely hydrated. Aloe soothes skin and calms redness.
177mL / 6 fl oz e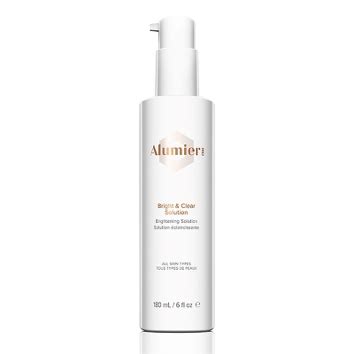 Bright and Clear Solution
A refreshing skin conditioning solution that refines skin complexion. Lactic acid, salicylic acid and Lime Pearl™ gently exfoliate dead skin cells to brighten the skin and reduce the appearance of fine lines and wrinkles.
Superox-C™, which is high in vitamin C, provides antioxidant protection from free radical damage. Arnica and oat soothe the skin.
180ml /6 fl oz e
https://www.alumiermd.co.uk/products/bright-clear-solution-13404
HydraCalm moisturizer is a rich and restorative hydrator packed with natural calming ingredients specifically formulated to relieve redness-prone and sensitive skin. Sea whip, boswellia, aloe and honey soothe skin.
An innovative low molecular weight hyaluronic acid and niacinamide provide intense moisture to all layers of the skin. A copper peptide strengthens and rehabilitates the look of skin. Antioxidants provide protection from free radical damage.
50mL /1.7 fl oz
https://www.alumiermd.co.uk/products/hydracalm-11316
Alumier Retinol (0.25, 0.5, 1.0%):
Retinol Resurfacing Serum is a pure potent retinol serum that dramatically improves the appearance of fine lines, wrinkles, blemishes and skin texture while evening skin tone.
Caution: Do not use if you are pregnant, lactating or planning to become pregnant. Mild redness, peeling and irritation are expected when using this product. Use non-chemical TIZO sunscreen SPF 40 during the day and limit sun exposure while using this product and for a week following discontinuation. For external use only. Avoid contact with eyes, eyelids and mucous membranes. Keep out of reach of children.
https://www.alumiermd.co.uk/products/retinol-resurfacing-serum-1-0AHA Renewal Serum
AHA Renewal Serum is a clarifying formula with a mixture of exfoliators and hydrators to reduce the visible signs of aging and promote brighter, firmer and more radiant skin.
Lactic acid (8%) removes dead skin layers, speeds cell turnover, reduces the appearance of hyperpigmentation and smooths fine lines and wrinkles. Allantoin, sodium hyaluronate and vitamin B5 hydrate, while green tea and arnica soothe the skin.
30mL /1 fl oz e
https://www.alumiermd.co.uk/products/aha-renewal-serum-11405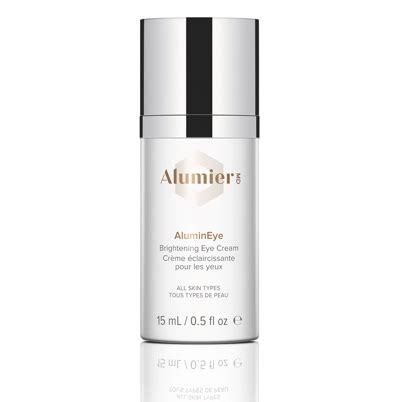 AluminEye® is a luxurious eye cream that helps improve elasticity and firmness, while diminishing the appearance of fine lines, dark circles and puffiness.
A combination of tremella mushroom extract, niacinamide and murumuru butter moisturize, while a unique blend of antioxidants protect against free radical damage. Rich in peptides and vitamins, AluminEye contains light-reflecting and soft-focus ingredients that immediately lighten the appearance of under-eye darkness.
15mL /0.5 fl oz e
https://www.alumiermd.co.uk/products/alumineye
Ever Active C&E + peptide A high-strength vitamin C and vitamin E serum that reduces the appearance of fine lines and wrinkles, revitalizing skin. The antioxidants, vitamin C and vitamin E, neutralize free radicals and protect against UV damage, while vitamin C and MATRIXYL® Synthe'6® strengthen and brighten skin. Many vitamin C serums oxidize in their bottles, turning a brownish color while they are on the shelf or at home. When oxidized, the vitamin C is no longer beneficial to the skin. EverActive C&E™ + Peptide stays fresh because you only mix the 15% vitamin C into the serum when you're ready to use it.
3 x 15mL/0.5 fl oz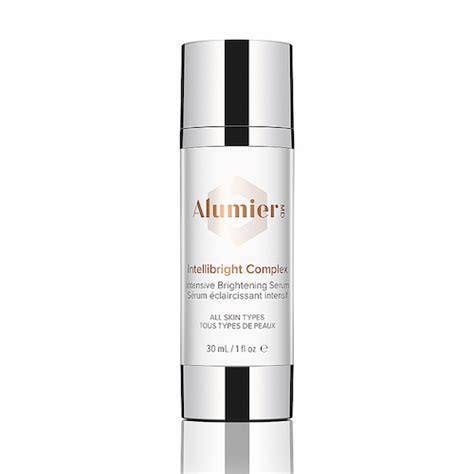 Intellibright Complex is a lightweight serum that contains naturally powerful skin brightening agents that work by different mechanisms to enhance results and resistance to new pigment formation.
Arbutin, kojic acid and punica granatum extract even skin tone and improve the appearance of hyperpigmentation. Hydroquinone free.
30ml /1 fl oz e
Lotus Scrub uses lotus seed powder and microcrystalline cellulose, unique natural biodegradable exfoliating agents that are smooth and spherical. These agents create even and gentle exfoliation to remove impurities and reveal healthy, more radiant skin.
120mL /4 fl oz e
Retinol Eye Gel is formulated especially for the delicate eye area and contains a pure, gentle and cutting-edge microencapsulated retinol that firms, tightens and strengthens the skin, reducing the appearance of fine lines and wrinkles.
By encapsulating the retinol, as well as adding soothing and hydrating ingredients like allantoin, niacinamide and sodium hyaluronate, beautiful results are achieved in comfort.
15mL /0.5 fl oz
Purifying Gel Cleanser is a pH balanced foaming cleanser that gently and effectively cleans skin by removing impurities and excess oil, leaving it smooth and soft. Coconut and plant-based surfactants gently cleanse. Chamomile, aloe and opuntia ficus-indica soothe and hydrate for skin that feels fresh, supple and comfortable.
177mL /6 fl oz e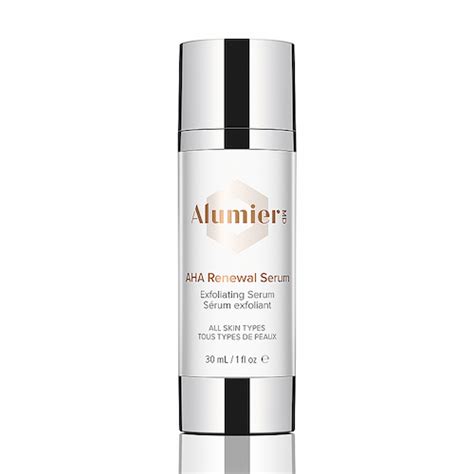 AHA Renewal Serum is a clarifying formula with a mixture of exfoliators and hydrators to reduce the visible signs of aging and promote brighter, firmer and more radiant skin.
Lactic acid (8%) removes dead skin layers, speeds cell turnover, reduces the appearance of hyperpigmentation and smooths fine lines and wrinkles. Allantoin, sodium hyaluronate and vitamin B5 hydrate, while green tea and arnica soothe the skin.